Coaching for the Construction Industry
The Building Business Can Be Brutal!
Have you hit a wall in your construction or trade business? Are you struggling to capture more profitable business, manage your time or build and motivate your staff?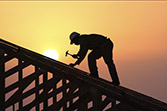 It's the nature of business – especially the construction business.  Whether you're a home builder, remodeler or trades contractor, the daily battle to make tangible progress can seem like a no-win proposition.  Where can you go to find answers?  Conventional wisdom drives business owners to work harder and longer, but wise business owners know when to reach out and get help.  There are times in the life-cycles of every business when it outgrows its own limited resources.
Legacy Business Leaders will help you find solutions that work!  Legacy principal Fred Reikowsky brings 33 years of experience in new home construction, design-build remodeling and the kitchen/bath business to the table.  That's 33 years of real-time experience learning how to conquer problems and challenges unique to the construction industry.  If you're ready to build a self-sustaining construction or trades business that rewards you with consistent profit and peace of mind, then you have found your answer.
Legacy Business Leaders works with business owners in the construction industry worldwide to help  re-chart goals, acquire key business disciplines and capitalize on the Legacy Process for Success and long term profitability.
How Legacy Business Leaders works with you to deliver winning solutions:
Assess and benchmark current business practices and organizational health

Determine clear short and long-term goals and scalable strategies to reach them

Develop and implement key financial and operational systems designed to capture market share and increase profitability
Create and implement a KPI (key performance indicator) dashboard to track financial goals
Organize, train and mobilize staff and leadership teams
Develop sustainable business plans and marketing strategies
Deliver customized training for leadership, sales and project management teams
Legacy one and two-day onsite Accelerators customized to tackle your most complex business challenges from business planning to staff building and beyond.
You can become a leader in your market and set your company apart from the competition.  Every business struggles with growth, but no business owner should be content with the status-quo.  There are answers for every construction business, regardless of size, to achieve breakthrough results.
Legacy Business Leaders will help you discover solutions for your unique building or trades business challenges.  Experience is a priceless commodity, but when combined with Legacy's systematic business coaching process, it becomes the catalyst for long-term success.
Do you want to be a leader in your industry?  Would you like to increase sales and profitability, build a better team and find a  healthy work-life balance?  We're here to help you accomplish all of that.  We are Legacy Business Leaders, and we help builders and contractors find winning solutions.
Call today and take the leap to greatness: 330-470-1300.  Fred@yourcontractorcoach.com

Legacy Business Leaders is a global organization committed to helping business owners flourish on the bottom line, excel in the quality of their lives, and become agents of positive influence in their communities.